You can obviously spend a huge amount on your afternoon tea if you really insist. You can go to The Ritz or Claridges and get the palatial teas there or head to Fortnum & Mason for a three-tier tea on a cakestand with a taste of three different single-estate teas.
 
But there are also ways to get the great British tea experience on a budget without compromising on quality – if you know where to go.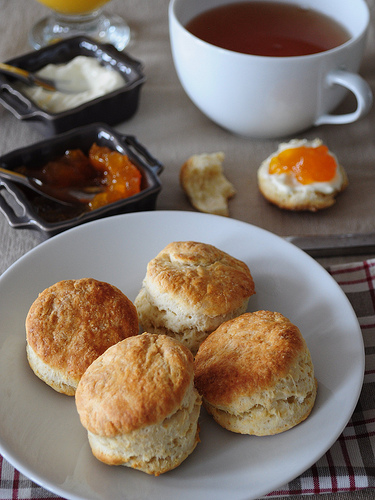 I'm not talking here about places like Bea's of Bloomsbury, which has a lovely tea available at significantly less than many of the top hotels, or the Orangery in Kensington Gardens where you can get away having spent less than £20 and still have the whole sandwich and scones experience. I'm talking about serious budget – where can you get scones and cream and a pot of tea, and still have change from a tenner?
 
Because you know that scones are the heart of the great British afternoon tea – also known as the Cream Tea. I can get sandwiches anywhere; and I can get little French cakes, or cupcakes, all over the place. But scones and cream are the real deal.
 
Being arty gets you budget points in the afternoon tea world. Try the Sotheby's Small Tea for example – the cafe at the auction house is a terrific place to eat and you're bang in the middle of the West End, but at lower prices than the hotels. If there's a sale on, you can view the art before you take tea – right now that includes Munch's The Scream, the only one of the four Scream paintings outside Norway.
 
Or head instead for the Saatchi Gallery where a set afternoon tea comes in just under £10, with tea and scones at £8.50 – and yes, the scones come with clotted cream as well as jam. At the British Museum, the Gallery Cafe offers a cream tea for £7.50 – though other more expensive options are also available – and the tea menu includes Rooibos, mint tea or ginger and lemon, as well as Earl Grey, Darjeeling, and Lapsang Souchong.
 
Museums are always a good place to hunt down tea. The Wallace Collection just breaks my £10 budget at £12.75 for afternoon tea – including sandwiches and a scone with clotted cream – but given the attractions of the gallery and the fine mansion in which it's housed, I think we can justify the little bit extra. Or you could just choose a cake from their selection (including a gluten free 'gooey chocolate cake') and have a cup of tea to accompany it. The biggest bargain though must be the Geffrye Museum restaurant – a very good afternoon tea can be had there for little more than a fiver (though I haven't been there recently) and there's always a good selection of cakes. It's a sweet little museum, just enough to get round in an hour or so with its fine displays of English furniture through the ages, and has a nice garden to stroll in if the weather's good.
 
Department stores are another option for a budget tea break. At John Lewis in Oxford Street you can just order a scone and a cup of tea in the cafe, or you can get a proper afternoon tea (sandwich round, cakes, scones, and tea) for just under a tenner. Hix at Selfridges does a champagne tea for nearly thirty quid, but you can get a Devon tea – scones, clotted cream, jam, and a pot of tea – for £8.50; that's another bargain.
 
Moving a little further away from the traditional British tea, Yumchaa is a brand I like a lot; their Chelsea Chai, with warming spices and green sencha tea, is innovative and highly distinctive, and this other flavoured teas are equally good, though purists might not like them. At Camden Lock, you can sit on the balcony overlooking the Regent's Canal; the other shops in Soho and Tottenham Street might not be quite so atmospheric but you can get a cup of excellent tea and some cake. Or scones. If you have adventurous taste buds and find Earl Grey is a bit of a drag now your palate has grown up, Yumchaa is for you.
 
Unfortunately my last selection, TeaSmith in Lamb's Conduit Street, breaks right through my self-imposed budget barrier with its 'Afternoon TeaSmith Ceremony', which costs £20. But it's such a majestically conceived menu I'm going to mention it anyway. White tea, green tea, mountain Oolong, and an aromatic digestive Oolong, are paired with fine biscuits and patisseries as well as chocolates from William Curley.  This menu, I think, is what it means to be truly alive in London 2012 – it's not a tourist menu, or a 1950s revival, or 'traditional' in any lazy sense, but it's a menu for the modern gourmet.
 
Photo credit: fred_v
 
Note: prices quoted above were correct at the time of research but may fluctuate.
 
Saving your pennies on afternoon tea might also permit the indulgence of splurging on a proper luxury hotel in Covent Garden within easy reach of several of the afternoon tea venues suggested above.