PlentyofFish.com is a popular online dating site that was started in 2003 and piloted by one man who is now raking in tons of money. Markus Frind is the driving force behind the site, which is now earning about $25 million a year in ad revenues. Plenty of Fish continues to grow at a rapid pace, and higher earnings are anticipated.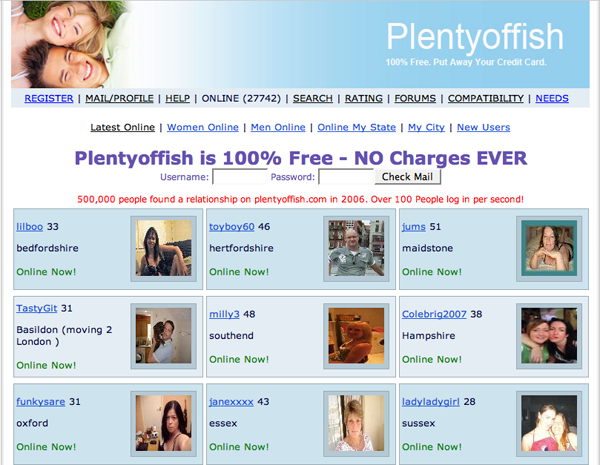 An Exercise in Community
The site was run by Markus and his then-girlfriend (and current wife) for 5 years before they hired an additional employee in 2008. The company now employs 8 customer service staff members, an executive assistant, an accounts manager, and several IT personnel. More importantly, Frind relies on volunteers to man Plenty of Fish's forums and sort through the 50,000+ pictures uploaded each day.
 
PlentyofFish.com is a community driven web site. The site is well-run and organized by members, some of whom have moderating powers that can be exercised on the Plenty of Fish forums. Plenty of Fish appeals to users because the users have a vested interest in their community.
Going Viral
Frind never spends more than 10% of the site's monthly income on advertising. In fact, most of the publicity the site receives is user-generated. Plenty of Fish's dating pool was built almost completely on word of mouth advertising. Frind feels that Plenty of Fish filled a need for a free dating site when no one else was providing one.
 
Many people don't want to pay for a dating site, or just cannot afford the cost. Plenty of Fish provides a free service for millions of people, and the beauty is that it isn't costing Frind very much at all. Markus is adamant other sites are after people's money and that his site is offering individuals the priceless gift of love- for free.
Is Frind's Site a Threat to Paid Dating Sites?
Frind doesn't believe his site will ever put paid dating sites out of business. It may eventually become the largest dating site- paid or unpaid-but there will always be a market for paid dating sites. Markus states there needs to be plenty of online options for people who are looking for love because statistics indicate that most people use more than one paid dating site. This suggests that many users may be using two sites in addition to Plenty of Fish. Until there is more than one viable free internet dating site, the question of whether Plenty of Fish is a threat to the paid dating industry can be nothing but conjecture.
Social Dating Beats Online Dating
In February of 2012 Frind initiated an overt social dating campaign designed to place the site in direct competition with major players like eHarmony and Match.com. In a published document, he company asserts that its social media dating formula is superior to the businesslike intelligence tools offered by Match.com and eHarmony. Frind may be onto something big. There is evidence to suggest that the more social a site is, the more chance it has of being successful. Logically, this should apply to online dating sites as well.
Friendly Advice from Frind
Frind has not been able to escape the questions from various internet entrepreneurs who continue to try to put a formula to his success. Everyone wants to know how a startup entrepreneur can successfully pursue an online venture. Markus does have a few nuggets of advice to offer:
Build something useful.
Make it simple and easy to use.
Make it free- find additional methods to generate revenue.
It will be interesting to see what the future holds for Frind's Plenty of Fish . It is clear that the site has already enjoyed a significant measure of success, and that it is likely that the success will continue and increase over time. This recent emphasis on the social aspect of dating could have a big payoff if Frind finds an interesting way to incorporate more social aspects into Plenty of Fish.
 
Either way, Frind is a very rich man and is able to spend much of his time enjoying video gaming and other leisure activities. Even before he hired additional employees, he wasn't very busy. He currently spends an hour running the site and the rest of the day is his. According to top online dating site reviews, Frind may have found the Holy Grail of online business in a free online dating web site.
 
Rick Mercado loves writing and during his successful career has covered a broad range of topics, from pediatric dentistry to best dating sites for young people. He prefers working from the comfort of local coffee houses. He is writing a series of articles for www.dating-site-advisor.com. He and his wife enjoy spending time together outdoors, whether it's visiting hiking or kayaking near their home in Nova Scotia.