Perhaps you have you been dreaming of having a perfect, customized home office for a while now. If you are like many people, you can visualize it in your head, but just haven't come up with the funds to put it all together. Or, maybe you are having a hard time justifying the extra cost when it's just you. After all, it would make more sense to splurge when others are involved, right? Wrong.
 
I am not going to turn this article into some big pep rally, but if YOU aren't worth the extra effort, time, and cost it takes to turn that dream into a reality, who is? Most people spend a large portion of their waking hours on the job. It's no different, just because you work from home. There are 24 hours in a day, take away the typical 8 for sleeping, and there are 16 left. Out of those 16, 8 are typically spent working…in one room. The other 8 will be spread out all over the house and town.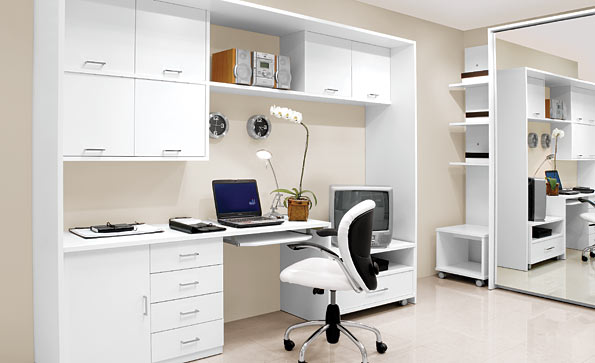 So, when looking at it that way, doesn't it make sense to give that room a little extra attention? If that isn't enough to sway you, think about production. Most people will produce more in a comfortable and functional setting.
 
Now, let's take a look at how you can have that room and not have to rob a bank to get it.
Dedicating a Space to Call Your Own
No more working from the dining room table. It's counter-productive and can get a little messy at times. Dining room tables, kitchen counters, living room couches, and master bedrooms all serve a purpose …and, it's not for conducting business.
 
Find a space that you can dedicate specifically as your office. This will help to eliminate distractions, help you produce more, and even allow for a little tax relief. It could be a spare bedroom, a formal dining room, attic, or even the garage. The idea is that it is separated from major traffic in the household and can be declared a separate room.
 
Once you have the room picked out, clear it out and get ready for the 'move'.
Customizing Your Space
Get an idea of what makes you comfortable, and what you would like in your very own office. For me, it starts with the obvious desk, which you can easily obtain for a fraction of the cost of full retail. Look to second hand stores, clearance centers, or even Craigslist and garage sales. It doesn't have to be in perfect condition when you pick it up, especially if you are creative. A little sanding and paint or stain can make it look like new.
 
The one area I won't skimp on though is the chair. It must be ergonomically beneficial, as I will be sitting in it all day. Even then, it doesn't have to be new, or at full retail price.
 
Next, I want to have a reading corner, where I can place a wall hugger recliner (to save space), lamp, and even a customized coffee bar. If you don't like coffee, make it your 'soda section'. But again, you might be able to find this reading chair on sale, or even in the next room. Nobody says you can't 'borrow' from your own things. The beverage bar can be simple shelves that you build specifically for that purpose, at minimal cost.
 
And, speaking of building some shelves…build your own shelving units to save money, and space.
Equipped for Success
Now, you need to have tools and equipment that will help you produce as proficiently as possible. In other words, you don't want to be working on a system that works at a snail's pace. Here are some suggestions to save on your budget, as well as your time:
    Computer with enough memory, and can be purchased as refurbished to save money
    iPhone can be used for more than just a phone, giving you mobility
    Time management software program can help keep you organized and running smoothly
    Online backup program such as Carbonite to help prevent from major loss of work
Of course, the tools and equipment you need will depend on your work. For example, I am a freelance writer, but never really have the need for a printer. So, why waste the money and space on one? But, you might need one. Again though, buying used or refurbished can save you money.
No Need for a Van Gogh
When it comes to art, it's all a matter of personal taste. If you prefer a red painted square over a Van Gogh original, who are we to say that it's wrong? Regardless, the art in your office is also up to you and your taste, and can be powerful and inexpensive at the same time.
 
I suggest you ask yourself what motivates you. If it is travel, find posters of your favorite destinations or those you hope to visit someday. Think of it as art…and, motivation. Or, you could take photos of your previous vacations and frame them for wall art.
 
Another idea is to stencil certain words or phrases that motivate you. If you can't think of any that are fitting, Google 'motivational phrases' and it will come up with several for you to look at.
The Bottom Line
It is your room, so personalize and customize it to meet your needs and desires. I hope I have shown you though that it doesn't have to be terribly costly to have a wonderful, productive, and customized home office.
 
Kathy Barber works from home as a freelance writer. She knows the value of having a productive home office, which is why reading through reviews on www.reclinerchairreviews.com inspired her to write a series on home offices. Kathy has tackled a variety of other topics as well, including addiction, online business, and entertaining. As a mom and wife residing in Michigan, she enjoys camping, boating, sporting events, and attending her son's school activities.