The idea of living in a log home is very romantic, and let's face it… it's the ultimate in retro. Log home living is where it all began in this country but what is it like to live in one today? Aren't they drafty pest magnets? Where does the fiberglass insulation go? Of course, today's log home plans become beautiful, livable houses with many extra advantages over the usual, more typical houses. They successfully blend the old, rustic country style with modern amenities and conveniences in a way that just makes them feel good to live in. They are more environmentally friendly and very inviting.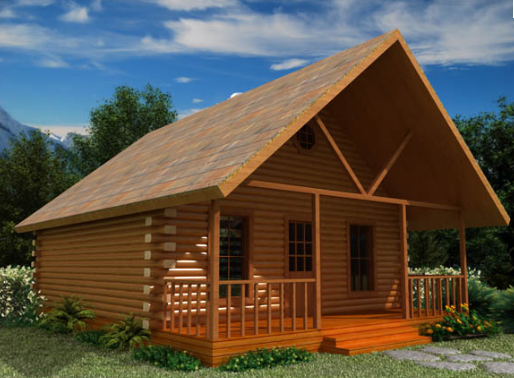 All kidding aside; log homes really do bring you back to nature. They are made out of solid wood, one of the planet's most ingenious gifts from nature. There are many reasons our forefathers used wood and they are beyond the fact that it was readily available. Wood is beautiful, strong, renewable and recyclable. Plus, it's energy efficient which is the best part. Solid wood needs little manufacturing which uses fossil fuels as opposed to other home building materials. Most homes today are built with wood from reclaimed timber or tree farms, where the trees are replanted as soon as they are cut. Wood is also a beneficial, natural carbon dioxide filter. Energy efficiency and environmental benefits are some of the many reasons that people are looking at log home plans when they design their own home.
Insulation in a log home is largely provided by the wood itself. Log homes do require some insulation, since the walls of a conventional home have better "R-value."  R-Value measures the wood's thermal resistance, which is it's resistance to heat flow. A 6-inch thick log wall would have an R-Value of 8, while a conventional stud wall with insulation, sheathing and wallboard has a resistance of R-14. However, the R-value of the log homes is misleading and is in reality better than that. Logs themselves have heat-storage capability, and store heat during the day and gradually release it at night. Logs in a house wall will absorb heat up to the temperature of the air in the house. When the house temperature is lowered, they give back heat into the rooms. Unlike a block or a stone wall, logs can be two temperatures simultaneously, warm on the inner side, and cool on the outer. They are warm in the winter and cool in the summer, especially in a mild sunny climate. This makes log home plans a very energy-efficient alternative.
Moisture can be a problem in all homes, not just in houses made from log home plans. Moisture always tries to escape out of the house, but it can't pass through solid wood and has to move through the cracks in the logs. In the past, our forefathers used moisture and cracks as their insulation, especially in the cold north climates. The houses could be sealed from the inside in the winter by boiling water on the stove and filling the house with water vapor. This vapor travelled through the cracks and froze on contact with the outside air. This cut down on drafts. In today's homes, thankfully, we don't need cracks in our logs and the logs are sealed against air leaks and shrinkage before the home is built.  The logs are also sealed with insecticide and waterproofing to prevent contact damage from water. Moisture is also controlled by the log home plans that you choose. Make sure that the plan includes generous roof overhangs, properly sized and placed gutters and downspouts, and landscaping that includes drainage planning.
A log home plan gives you a spacious beautiful and very livable home. Its rustic setting, rugged beauty, all-around friendliness and coziness make the log home a peaceful place to come home to at the end of a hectic day. They are also cozy and inviting for guests. As well as stabilizing the temperature, the air inside a log home is very clean and fresh. The logs themselves breathe, filter the air and modulate the sounds from outside but it's the peace and serenity, the warmth and the coziness that is provided by the wide-open plan and the beauty of the exposed wood that makes living in a log home so attractive. If you are interested in considering this option, look at the huge variety of log home plans provided by Monster House Plans. In addition to log home plans, they have over 22,000 home floor plans to fit other tastes and dreams. You can have one custom made if you don't see yours there. The website is user-friendly, from a company that knows how important and exciting planning and living in your own home is.  Go ahead, imagine your peaceful log home and see what is there for you.
Monster House Plans sells log home plans and thousands of other plans in all the styles you want. If you are looking for house plans, Monster is the one resource you need.