It's summer time, which means it's BBQ cooking time. But don't be fooled…these BBQ cooking tips are good for the whole year.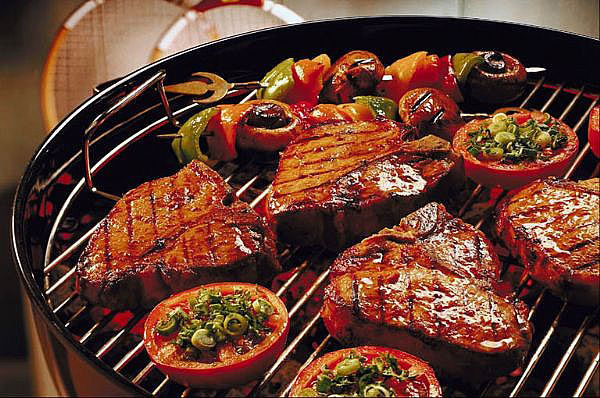 Fat Equals Flavor
Fat adds flavor to your cooking. If you insist on cutting the fat before you serve the meat, try to do so after you've cooked it.
 
Marinade. Marinade. Marinade. And Season.
Plan ahead and marinade your meats for at least four to six hours before you put your meat on the grill. The goal is not to replace the flavor of the meat, but rather to enhance the flavors. Marinades don't need to be complicated to be good. Even simply marinating chicken in Italian dressing can result in fabulous BBQ cooking.
 
Low and Slow Heat
Technically speaking, grilling is done quickly over high heat, and barbecue is a slow process where food is cooked over low heat. The low and slow process usually results in a tender meat with the flavors infused, rather than slathered on top only. A smoker is great way to BBQ. You can also start a BBQ in your oven at very low heat and finish on your grill later.
 
Grill Veggies and Bread, Too
Don't overlook the chance to throw vegetables and bread on the grill. Corn on the cob, potatoes, or a medley of zucchini, tomatoes, and carrots cook well on the grill. Drizzle butter and sprinkle parmesan on top and you can't go wrong. When the meat is minutes from being ready, toast your bread on the top rack.
 
It's All in the Sauce
The first ingredient in most store-bought BBQ sauces? Corn syrup. This isn't a debate about the value or safety of corn syrup. We're simply pointing out that you can make an at-home sauce that is not based on sugar. Simply pour tomato sauce, vinegar, mustard, Worcestershire sauce, your choice of spices, and fresh peppers (the type and number based on your heat preference) into the blender and hit "go." Simmer on the stove top to bring the flavors together. The result will be homemade BBQ sauce cooking that you can enjoy and call your own.
 
A Hungry Crowd Is Easy to Please
Now, this tip is for fun and something that most restaurants have refined. Treat your family and friends to an appetizer and tasty beverage before you serve them the main BBQ meal. While they sit and smell the aromas, their taste buds will anticipate your fine meats and vegetables. And once their plate is full in front of them, they'll be more than ready to enjoy the dish to its fullest.
 
This is a guest post by Lisa Vance on behalf of Chefs.com, providing free recipes and food insights to the food enthusiast.