St Ives is a town in Cornwall, right by the seaside, which means that tourists and travellers come to this location for the beautiful scenery. The resort is well known for its jewellery, arts and crafts. The quaint cobbles streets are lined with small galleries and artists studios.  There are many pretty beaches to choose from here, Carbis Bay and Porthminster are popular, Hayle boasts a three mile stretch of beautiful, fine sand.
 
There is so much to do and see in this area, you will be amazed at the variety of choice. If you are into the sailing and surfing scene, there are plenty of opportunities to hit the waves locally. Sea fishing trips are also a popular choice with families, offering the chance to catch Mackerel, Sea Bass or Snapper. For a more sedate option, you can check out the exhibitions at the Tate Gallery, visit the open air theatre or simply enjoy the opportunity to sunbathe or shop.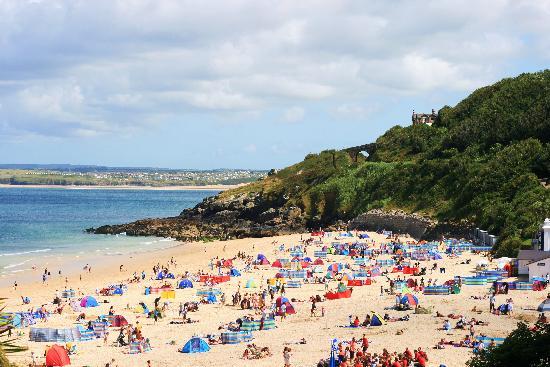 If you are looking for somewhere to eat, whether it is a quick snack, a Cornish pasty or a sophisticated slap up dinner, St Ives offers you a tremendous choice of cuisine and venue, there are some really romantic restaurants overlooking the harbour where you can sit outside on some of the warmer evenings, either on the patios or balconies, watching the world go by.
 
When staying in St Ives there is no better place to stay at than in one of the pretty holiday cottages, of which there are many to choose from.
 
Each cottage has its own scenic view, whether near the coast or deeper inland. Many of the cottages are built from local stone and some are roomy enough to accommodate large groups of guests at one time. Holiday cottages typically include a kitchen, a utility room, a sitting room, bedrooms, and a bathroom, incorporating facilities including a gas fire, a CD player, a washer/dryer, a microwave, a dishwasher and air conditioning in each room as well as central heating.
 
St Ives Bay is ideal for those wanting a break from the hustle and bustle of life. There are plenty of very decent cottages and houses to stay in and each one offers its own unique facilities and views. Due to the popularity of the resort though many of the cottages are booked all year round, even in the colder months, so you should certainly look to book your stay as early as possible.
 
Article written by Caroline Smith from www.tomsholidays.co.uk, who are experts in St Ives cottage holidays.