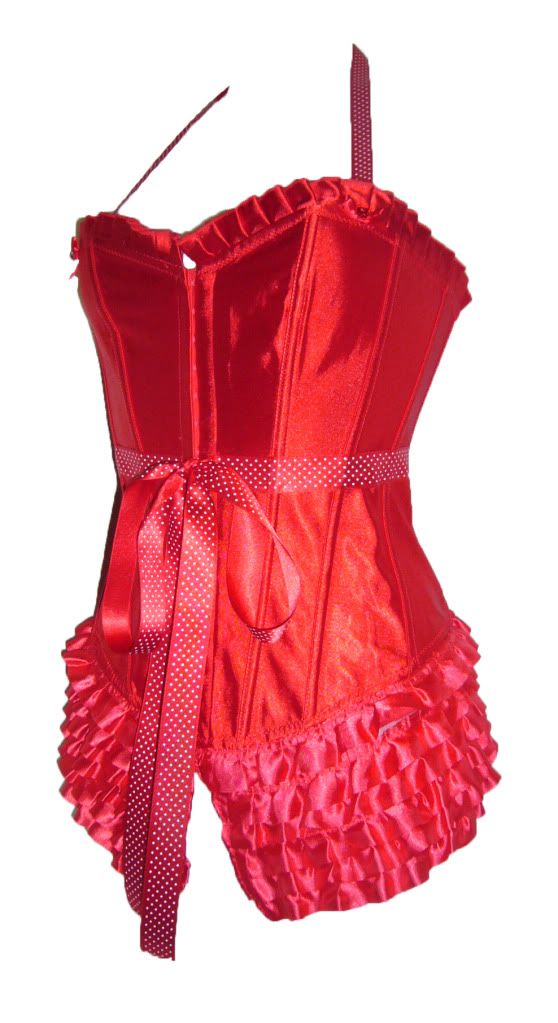 Image by Esty Lingerie
Corsets are gorgeous, fashionable and luxurious items of lingerie – or outerwear! They are a must-have piece of clothing for every woman as they will inevitably help to add a touch of glamour and style to your wardrobe.
Corsets can enhance and sculpt your body shape, cinching in the waistline (which has an amazing slimming effect!) and emphasising your bust, cleavage and hips. Few women are lucky enough to have the 'perfect' hourglass figure, but with a corset anyone can get some killer curves to show off in style!
There are many different designs of corsets available in numerous colours, patterns, fabrics and styles. If you're a corset newbie it can seem a little daunting trying to figure out where to start, so here's my guide to finding the right corset for you…
As the name suggests, an overbust corset covers the bust area completely, so can be worn alone without the need for a bra. These corsets tend to be the most popular style for women today, either as lingerie or as outerwear – so if you're buying as a gift, stick to overbust styles for the best chance she'll love it!
Overbust corsets are ideal both for fuller figured women as well as slim body shapes.Whatever size you are, a good quality overbust corset will nip in your waist and push up your bust for a killer cleavage! You'll even get an uplifting effect if you have a naturally small bust, providing you with curves you've never had before and a sexy confidence to match!
Thanks to their style, overbust corsets are perfect both as lingerie, with or without suspenders, and as outerwear, whether strapless or with straps.
Underbust corset, again as the name implies, stop just under the bust. They can be worn with a bra, with matching pasties or with nothing at all if you're daring enough!
This style of corset is usually worn as sexy lingerie, but it can be worn as outwear over a dress, top or blouse for a unique take on the layering trend.
This is the corset style for you if you feel too restricted in overbust styles and would prefer the comfort and flexibility of wearing a bra. If you have a particularly large bust you might also find an overbust corset not supportive enough, so being able to wear a well-fitting, uplifting bra with your underbust corset is great!
An underbust corset will still have the same slimming, shaping effect on the waistline, and can come either with suspenders or without. A very short underbust corset that covers from just under the waistline to just above it is usually called a 'waspie' or 'waist cincher' and is somewhere between an underbust corset and a very structured suspender belt – if it has suspenders!
Corsets are great for all sorts of occasions, and one of the most popular times for women who don't normally wear them to pop one on, or even to wear one for the first time, is the wedding night.
Bridal corsets are a beautiful style of lingerie, perfect for beneath your wedding dress or just for your wedding night or honeymoon. Luxurious and glamorous, you'll feel and look amazing in a premium quality corset and it's the perfect sexy surprise for the new hubby!
You don't have to stick to the traditional white for a bridal corset, although this is obviously a popular choice. If you have a particularly sheer dress, for example lace, you may find that a nude or skin-toned corset is actually less visible through the dress. Or perhaps you want to break convention and wear a lipstick red bridal corset!
Cheap corsets are great for a night out or for an affordable treat for everyday wear, but when it comes to your wedding day be sure to splash out on a luxurious, premium quality corset that makes you feel as beautiful as you'll look in it.
Just be sure to try your corset on and wear it around the house for a few hours before the big day to ensure you are comfortable – there's nothing worse than being uncomfortable on your big day and feeling too restricted in your movements to dance, or to eat your slice of wedding cake!
I'd love to hear what your favourite corset style is, overbust or underbust?
Michelle Star writes for Esty Lingerie, an online lingerie boutique specialising in independent designer brands. They sell a wide variety of corsets, including gorgeous bridal options!