The popularity of home theaters has caught on and continues to grow. In fact, it's quickly becoming a 'searched' room with buyers as they look for new homes. With the rising cost of a night out to the movies, it just makes sense to put a little money into having your own customized theater right in your home.
 
Another great reason to have one, is if you have teenagers, or soon-to-be teens, if you want to provide an environment to keep them home once in awhile. I'm not talking about forever, or even every night, but just once in awhile. It would also help if their friends felt comfortable coming over for a night of movies.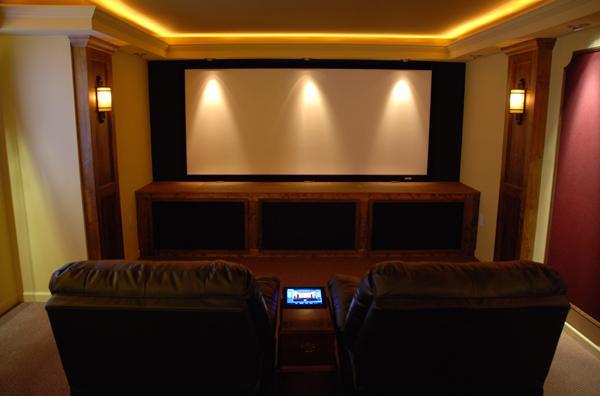 That is why it's important to plan out your theater and customize it to meet your needs and desires. For example, if you don't want a lot of extra guests over, limit the seating. That's the beauty of it; it's your home and you can have it your way.
 
So, let's take a look at some ideas to get your creative juices flowing…
1. Pick the Room
Before you plan anything else, you might want to choose which room you are going to turn into a home theater. It will make a difference, as to the size, structure, and location. In other words, if you choose the basement, you might have an easier time with lighting, but sound might be an issue if you try to utilize the entire basement. Without walls and a segregated area, your surround sound might be in vain.
 
If you have more than one family room that could be an option. Or, a spare bedroom, although it would be significantly smaller than other options. Then again, size might not be an issue if you plan on keeping the guest list to a minimum.
 
Finally, you might want to consider the garage. If you don't park in it, you might have some great space to work with, even though the 'bones' might need some work. If you do park in the garage, you still might be able to utilize part of the space for a smaller theater.
2. Sound
A good surround system is easy to find these days. In fact, there are systems to fit any budget. I recommend that you do a lot of research before purchasing a system, and look at the reviews online before you make your decision. That's the easy part.
 
However, sound goes beyond just hooking up a good system. Acoustics also play a large role in how your movies sound while viewing. If you have a lot of echoing in the room with shallow walls, open ceilings, or hard surfaced flooring, then your movie night will suffer.
 
Carpet on the floor and wall treatments with padding will help provide a more professional sound to your home theater.
3. Seating
There are various options to seating, and just as with sound, comes with varying price tags and options as well. For a smaller room, you might want to consider wall hugging recliners, which will help save space by being able to cozy up to the wall, much closer than traditional recliners.
 
If you want to indulge, and your space allows for it, there are companies that make seating specifically designed for home theaters. Some of these are in a stadium-style, which is on an incline so that those in back can easily see. Others have built-in speakers to get the full effect of your sound system.
 
The seating is equally important to the other areas, if not more. If you are not comfortable, you will not want to sit for an entire movie, no matter how good the movie is.
4. Lighting
To get the full effect of a movie theater, the lighting is something to consider. Not so much what lights you install, because we often watch a movie in the dark. The only exception I can say here would be some low lighting along the floor, in case someone needs to get up. It's a hazard to be walking around in complete darkness, but an annoyance to turn the lights on while others still watching.
 
To give the room the right ambiance and 'darkness' for watching movies, avoid using light or bright colors on the wall, or in the furniture. I realize that light expands the room and makes it appear larger. But, that is not the goal in a home theater.
 
Window treatments can also help with darkening the room. There are many window treatments that have sound and light barriers within them, such as drapes for bedrooms.
5. Theme
Choosing a theme for your theater can really make an impact in creating ambiance. Here are a few to consider:
    General theater motif
    Superheroes
    Award winning movies
    Your favorite actors and actresses
    Red carpet arrival
The more specific you get, the harder it will be to change it out someday. However, if you utilize posters to accent your theme, it will be much easier.
6. Accessories
Don't forget the popcorn! Commercial-like popcorn machines are easy to find, and fun to use. They create the smell and taste of a genuine theater as well. You can take it a step further and have popcorn bags and soda cups just like they serve it in at the theaters.
 
A snack bar is a great way to add an authentic feel to your own theater. Fill it with a variety of your favorites in a nice display. And, a soda bar would also be great, especially if your room is going to be used quite often.
 
Hopefully I have shared some ideas to get you started. You can take them as is, or run with one to inspire new ideas. The idea is to make it comfortable, unique, and welcoming…especially if you want your teens to stick around to enjoy it.
 
Rick Mercado decided to give up his career as a land surveyor to start his online career as a writer and marketer. It's been a successful move for him. He writes on various topics such as home renovations, online business, and weight loss. He enjoys research and is often inspired by it for his topics, such as his series on home theaters after reading http://www.reclinerchairreviews.com. Rick lives in Halifax, Nova Scotia with his wife. He enjoys outdoor activities and cooking, especially his favorite Italian dishes.