Decorating a bathroom can be very expensive and time consuming; however it doesn't have to be. I have a sure start plan to jazz up any bathroom on a budget!
 
Choose a new shower curtain
Shower curtains are the new must have accessory for any bathroom. Many of the large department stores and design stores are selling them once again. Shower curtains were seen to go out of fashion and replaced with the plastic shower screen but they're back with a bang! A would recommend having a shop around as there are so many on the market at the moment. I suggest using the curtain as the centre piece of the room and work your colour scheme around it. There are so many funky design ideas out there and I am sure you can find something that sums up your personality perfectly.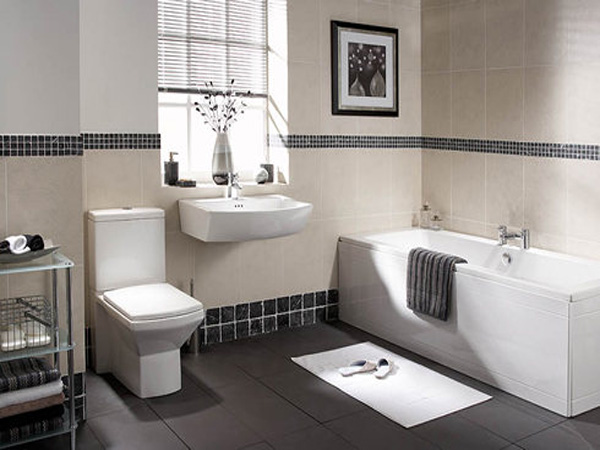 Accessorise
A brilliant way of brightening up any bathroom is by accessorising it. This does not need to be an expensive thing to do. A fantastic look can be achieved on a small budget. It is really important to visualise the look you are going for, a great idea is to have a look at design ideas on the internet, in magazines or maybe even books. I believe that coordination is the key to making any room look 100% better. Choose a colour scheme and theme and work accessorise into the design. One of my favourite accesorise for a bathroom is a plant, I think it gives a bathroom a real tropical feel and brightens up the room. Many plants live and grow really well in a bathroom because of the damp climate of the room, so you don't need to be green fingered to look after one! An idea is to choose a plant pot that can be a statement accessory for the room also, this again can really add to the look of the bathroom. Storage is a must in the bathroom but new bathroom cupboards can be expensive, however there are some lovely storage ideas on the market. I really like the plain wicker baskets, there fantastic at hiding away products. They look great and are really cheap to purchase, also they are suitable for any room in the house so can be used again and again if you don't need them in the bathroom.
 
Give your old suite a new lease of life
Purchasing a new bathroom suite can be extremely expensive. I recommend tidying up the one you already have, only if it's not some ghastly colour! I simple way of giving it a new lease of life is really simple – change the taps. Changing the taps gives the bathroom a completely different look instantly. The new taps can really modernise a bathroom suite and the bathroom itself and not to mention it's much cheaper than buying a whole new suite!
Guest Post by Daisy Burgess – Professional Blogger for wibco.com